Halo headband II - pullover black
This item is currently unavailable
Halo Headbands are technically designed to keep sweat and sunscreen out of your eyes and off your glasses while training, working out, racing, or just working hard.
Every Halo Headband includes our soft and comfortable Sweat Block Technology. This exclusive water-tight seal redirects sweat away from your face. (US Patent 6,567,991)



Halo Headband worn by the winner of the Carlsbad Marathon 2009

Time 2:24:56 with a 5:32 pace

"I bought my first Halo Headband at the expo the day before my first marathon and raced with it the next day. I had never tried one and from the start it was perfect. No break-in period. Kept sweat out of my eyes and forgot I had it on until I finished. Halo is a great product. After the event I ordered them to sell in my store."

Josh Spiker
Owner of Inside Track Running & Triathlon Company
Ventura, California


Performance Guarantee
Halo Headbands perform as advertised, or your money back. We challenge you to find
a product that works better.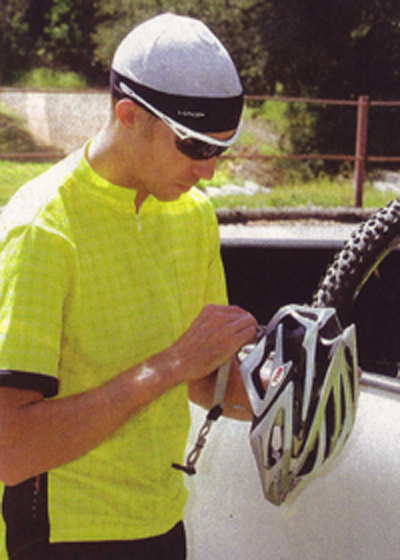 Halo makes a number of products to keep the sweat out of your eyes (and off your sunglasses) while riding.

After the thrashing: The Skull Cap gives a more secure fit than you've ever felt with the helmet's stock sizing pads. The thin Skull Cap band soaks up sweat during the longest rides. No more unexpected salty showers of sweat over your glasses or into your eyes. Going downhill, the Skull Cap keeps the helmet from rocking on your head. And unlike helmet pads, our Skull Cap never got stinky, plus its easier to wash.

If you prefer wearing skullcaps, I give this product five stars.
Mountain Bike Action, July 2009

"When I first saw the Halo a few years ago I was skeptical. Its a little yellow strip and thin material looked silly. Surely it would be annoying on long rides and ultimately ineffective. But since the first try, I've used a Halo consistently and exclusively because it works great. It's made from two thin layers of Dryline fabric, a microfiber polyester that not only wicks and evaporates moisture but also prevents the growth of bacteria. The small rubber-like strip creates a watertight seal on your forehead so that when the material gets saturated, sweat runoff doesn't drip in your eyes or splatter on your glasses. The Halo is also durable. I've had years of use from some of mine".
Bicycling Magazine, August 2007



"Five stars for a headband? You bet. This is one of those simple products that will become as much a staple in your riding gear as your helmet. Go ride and make sure it is hot. Go ahead, sweat like you are in a sauna. The Halo soaks it up. No more showers of sweat over your glasses. Our Halo never got stinky, plus its easier to wash, just throw it in the washer with your jerseys".
Mountain Bike Action, January 2007

"The light-gauge fabric fits easily under your helmet. Even if the band gets completely soaked, the elastomer strip keeps the sweat from dripping into your eyes. Instead, the sweat runs along the edge of the elastomer and drips off by your ears. This is the best designed and most beneficial sweatbands on the market. Final Word - Go for it".
Mountain Bike Action, April 2003